Our team can help your brand with any question related to 'China' and 'digital'!
Below you can learn more about the service options that we offer.
Online Marketing
Baidu & Qihoo 360: 
Account registration & set-up
SEO & Pay Per Click (PPC) campaigns
Ad phrase copywriting
Static & Dynamic banner development
Baidu Baike & Baike Zhidao
Chinese domain registration & hosting solutions
Web development & design
WeChat Mini Programs (小程序) development
Profile development & optimisation
Creative collaborations
(Seasonal) ad campaigns
Branding & Design
Brand development
Brand positioning
Brand strategy
Creative direction
Creative concepts and development
Branding and identity
Logo and visual identities
Art direction
Graphic design
Service design
Illustration and typography
Packaging design
Corporate materials
E-commerce
Market scan & analysis
Customer insights
Chinese stand-alone webshop development
Taobao shop development
Tmall, JD, Tmall Global & JD Worldwide shop development
WeChat (cross-border) shop development
Shop management
24/7 Customer service
Platform marketing
Customs clearance & handling
Warehousing
Last mile delivery
Return management
Research & Consulting
Target audience analysis
Market segmentation analysis
Competitor analysis
Pricing analysis
Distribution analysis
China Tourism workshop
China Education workshop
China E-comemerce workshop
WeChat marketing workshop
WeChat cross-border shop workshop
Alipay & WeChat Pay workshop
Cross-border Payments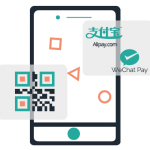 Alipay online payments (e-commerce website integration)
Alipay mobile (POS) payments
Alipay in-app (ticket) sales
Alipay in-app marketing services
WeChat Pay online payments (e-commerce website integration)
WeChat Pay mobile (POS) payments
WeChat Pay in-app (ticket) sales
WeChat Pay in-app marketing services
We offer the above services for the following industries:
Tourism Industry
We know exactly how to make your tourist destination 'China-ready'!
Education Industry
We are the top Chinese digital marketing agency for higher education in NL.
Export Industry
We are experts in delivering an end-to-end sales channel for your brand in China.