WeChat
WeChat, with over 1 billion daily active users, is China's number one mobile app. This makes it an excellent channel for marketing and promotion purposes.
By setting-up an (Overseas) Official Account on WeChat, we allow your brand to directly interact with Chinese customers and stakeholders. With targeted advertising on WeChat Moments and via Banners, our team can make sure that you reach the right target audience and engage with them.
Our (custom-build) WeChat Mini Programs and H5 solutions will help to boost the sales of your products and services. As WeChat Technology Partner we did many major projects. Go check them out!
What We Can Offer
Our WeChat Official Account services

(Overseas) Official Account Registration & Verification

Account Operation & Content creation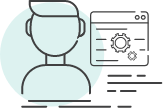 SCRM set-up and operation

H5 campaign development & execution

WeChat Moments & Banner advertising

KOL/Influencer development & execution
Our WeChat Mini Program services
(Customized) in-house Mini Program Development

(Overseas) Mini Program Registration & Verification

Mini Program Promotion (Offline & Online)

Mini Program Operation & Maintenance
Let's work together to create more cool stuff