Weibo
When people ask us what kind of platform Sina Weibo is, we always tell them that it best can be compared to Twitter – but then 'on steroids'. Weibo offers brands an unbelievable variety of options to improve brand awareness and connect with potential customers.
By setting-up your (Overseas) Weibo Official Account you will be able to introduce your brand to a large audience. The build-in Weibo FST advertising functions allow you to target very specific groups of existing and potential customers and collect valuable insights about their habits and preferences.
Weibo is also a great platform to team-up with the rights KOLs and KOCs. Our Weibo experts know exactly how to grow your brand on this powerful platform!
What We Can Offer

(Overseas) Official Account Registration & Verification

Account Operation & Content creation




KOL/Influencer development & execution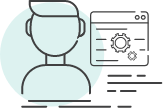 SCRM set-up and operation
Let's work together to create more cool stuff