Xsens is the leading maker and supplier of innovative 3D motion tracking systems and products. Xsens' products are used worldwide for making 3D animations in films and games, analyzing movement in healthcare, sports science and more.
WeChat Official Account (OAs)
Xsens was looking to boost its B2B sales in China and asked NextportChina to design and execute a promotion strategy for China. NextportChina set up the Xsens WeChat Official Account and manages the account by creating and designing Chinese content. Our team also develops online and offline campaigns in order to reach the right Chinese target group and to expand Xsens' follower base.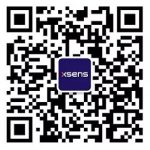 Scan QR Code to Check
Xsens Wechat OA